When Robert Delpino was a kid, he wanted to grow up to be like the social workers who helped his family. He eventually achieved his dream, but it came at the end of a surprising journey that wasn't part of his original playbook.
A 2004 graduate of La Sierra University's social work program, Delpino is a licensed marriage and family therapist who serves as a district psychotherapist with the Chaffey Joint Union High School District based in Ontario, California. The 12-school district serves more than 25,000 students in seven communities. Delpino provides those who need it with assistance in working through mental and emotional challenges and academic disabilities, drawing upon extensive behavioral health experience and his own life challenges and successes that include an NFL career thwarted by injury. Since March 2020 when schools began moving operations online in the face of the advancing COVID-19 pandemic, Delpino has worked with students via Zoom video conferencing, typically from his office at the district headquarters.
"There's no greater feeling for me than to see a student recognize their disability, accept it, and then take that knowledge and work toward improving their functioning for their future well-being," Delpino said. "My analogy is watching a beautiful flower blossom."
Delpino grew up in Dodge City, Kansas, one of eight children under the watch-care of a mother whose strong Christian faith guided them all. The family sometimes struggled financially and social workers stepped in, providing gifts at Christmas, food, and other assistance. A young Robert was influenced by their caring support and decided he wanted to become like them one day. In the meantime, he developed an interest in football and played during elementary and high school. Plans to join the military and attend a four-year program to study social work were replaced by a football scholarship to Dodge City Community College where he earned All- American Honors, and then by a football scholarship to the University of Missouri where he again intended to earn a bachelor's degree in social work. "God [had] other plans," Delpino said. 
While playing for the Tigers at Mizzou, his talents as a running back captured the interest of the NFL's Los Angeles Rams. They drafted him in 1988 and five years later as a free agent he moved to the Denver Broncos. After six NFL seasons during which he was named Rookie of the Year and scored 18 touchdowns, a severe injury permanently sidelined his professional football career. An ensuing search for another occupational focus—a period he calls "the wandering years"—led him full circle to the interests that had inspired his heart as a boy.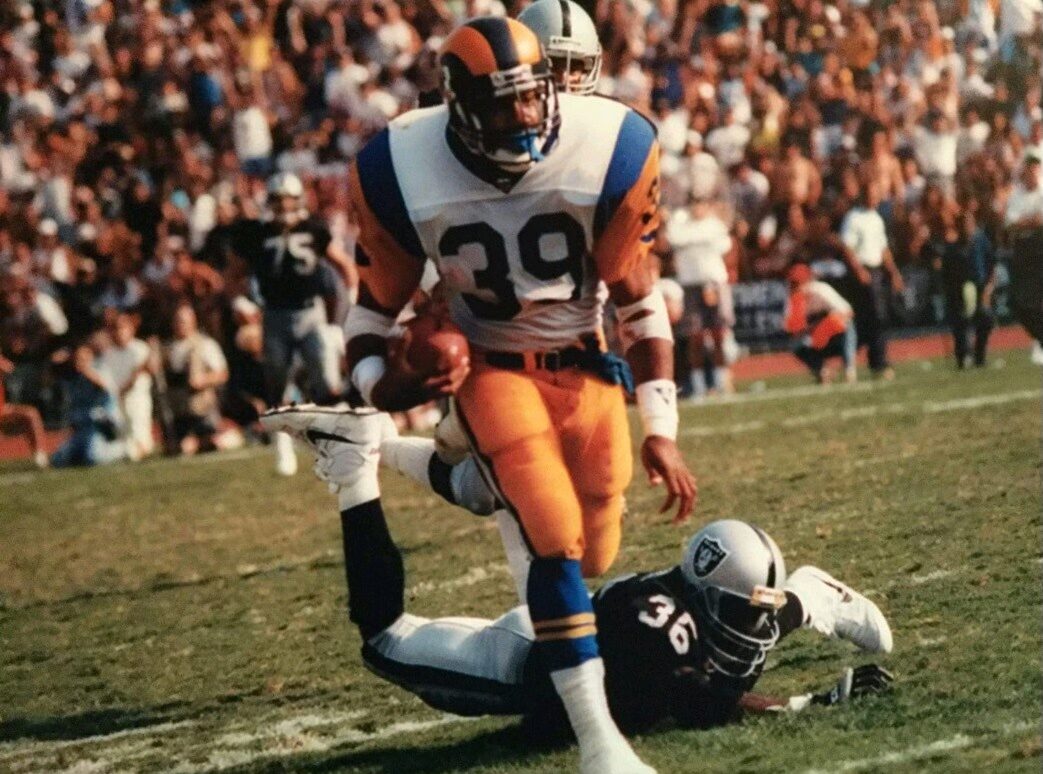 Photo courtesy of Robert Delpino
"I didn't know the term was 'social worker' at the time growing up. My first goal was to help those kids who received the help that I did from those agencies who came in and helped us," Delpino said. 
After considering bachelor's degree programs at Cal State Long Beach, Cal State San Bernardino and elsewhere, Delpino, a Riverside-area resident, found supportive, welcoming staff and faculty and an academic package at La Sierra University that worked with his prior academic credits and allowed him to earn both an associate's and a bachelor's degree. In 2011, he earned a master's degree in counseling psychology from California Baptist University in Riverside. He worked as a case manager and administrator for group homes for several years, followed by training and a district therapist's job in 2015 with the Chaffey Joint Union High School District. After passing a state exam, he joined the district full time in 2018 as a licensed marriage and family psychotherapist. 
It happened during the last play just before half time during an end-of-season playoff match in 1993. Delpino was a running back for the Denver Broncos in Colorado after joining the team that year. "It was a short yardage play, we were going for a first down. The quarterback handed the ball off to me," Delpino said. "You're fighting for that yard, that first down. I got bent backwards and my foot got stuck underneath me—it snapped my second toe [and with] severe ligament damage on my big toe I hyperextended it, so the bone was snapped." While the injury was deeply painful, Delpino was unaware of the extent of the damage and he returned to play for the third quarter. A year and two surgeries later, Delpino retired from the NFL and embarked on a recovery process and a quest for a new direction.
For Delpino, the first several years after his retirement, which included returning to California, brought deep joys—his marriage to his longtime girlfriend who had been a cheerleader with the Rams and then the San Francisco 49ers, the birth of his daughter in 1995 and precious time as a stay-at-home dad, followed by the arrival of his son in 1997. It was also a season of restlessness and a shaken confidence as he explored new pathways including becoming a police officer with the Los Angeles Police Department—"of course I was too old and injured," he said—then licensing to work as a security guard in Orange County, and finally a position as a counselor at a child care facility. Occupational frustration proved to be a blessing in disguise. "It was a great learning opportunity because it propelled me to go back to school to do what I really wanted to do," he said.
He began looking into four-year social work degree programs toward advancing in the field and met with social work faculty at La Sierra. "Meeting with the staff there and how welcoming they were was a big, big motivating factor," he said. His marriage had ended, although amicably, and attending a school near where his children and former wife lived in Corona was paramount. "The priority was to stay close to my children," Delpino said.
Jill Rasmussen, social work department chair at La Sierra recalled working with Delpino as he pursued his bachelor's degree. She noted his humble spirit, kindness, positivity, and desire to give back. "While in school earning his bachelor's degree in social work he was also juggling other responsibilities including full-time work and being a dedicated father," Rasmussen said.
Throughout his 20-year career in behavioral health, Delpino has been able to draw upon his own lessons gained from persevering through adversity, acting on God-given opportunities and following his dreams.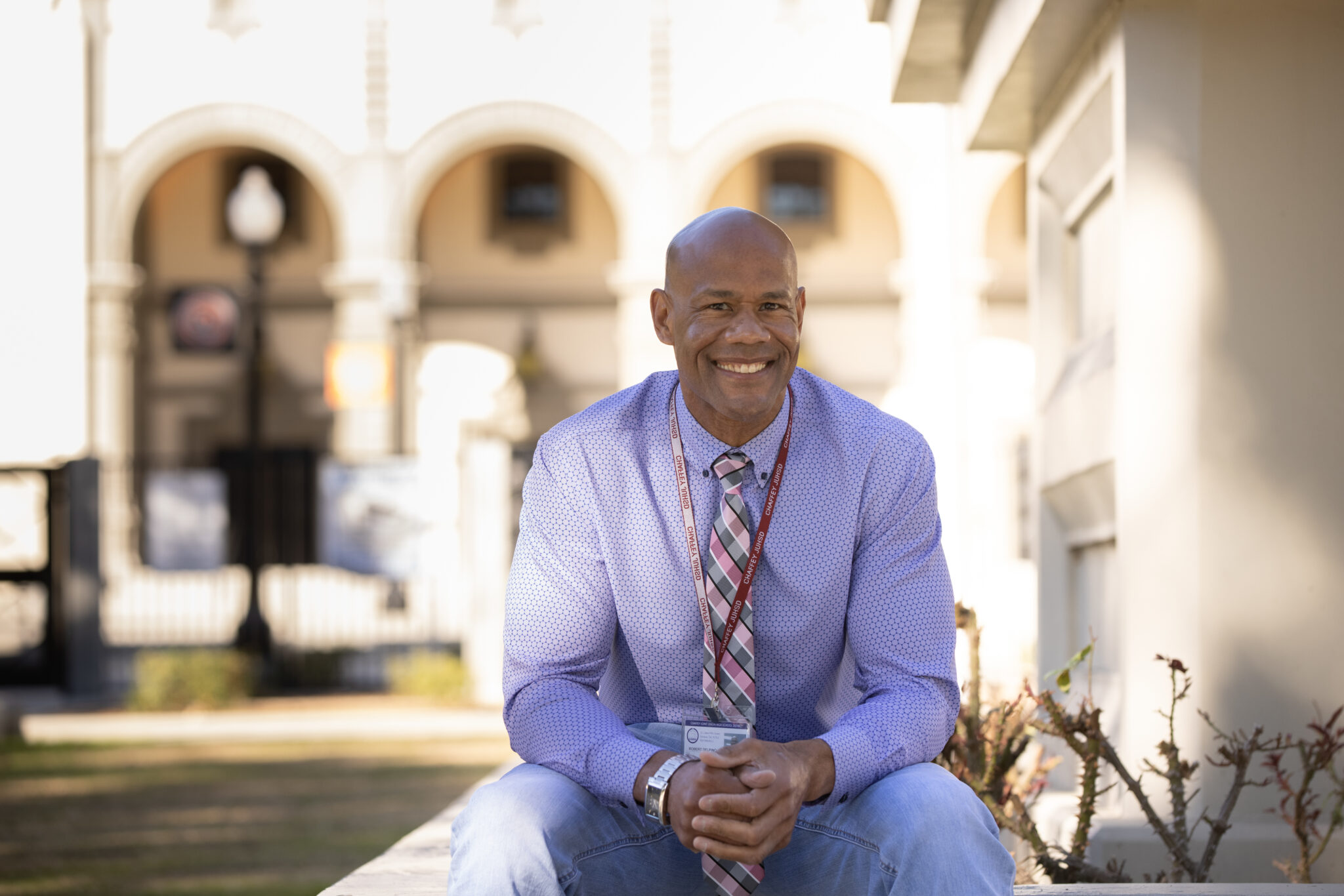 "Basically my experience with setbacks and overcoming, having the faith in God that if I work to serve others and not selfishly, then I can work towards putting my energy into the well-being of others. Then, in that capacity, I am receiving the gift of self-improvement, " Delpino said. "Being able to work with the students and their families, applying that knowledge and that history of what I have been through, they can understand that yes, they too have had setbacks and obstacles," but can use what they've learned to work toward future success.  
"They teach me, and it's just a joy, and just such a satisfaction to see [them] realizing their own potential," Delpino said.
The Seventh-day Adventist Christian environment at La Sierra was also an attraction to Delpino. "I really appreciated the opportunity to expand and learn more, not only in terms of academia, but also in terms of faith," he said. During his childhood he and his siblings grew up in the Catholic faith and attended church periodically. And while he fell away from Catholicism later in life, he and his former wife raised their children with a "God consciousness" which involved regular church attendance, Delpino said.  "I wanted to continue that," he said. 
He cited a number of people who served as key mentors including his first football coach in elementary school Bill Bunyan and Bill's wife, Susan; his community college coach Jerry Cullen; former Los Angeles Rams coach John Robinson, a "formidable figure [and] very instructional coach"; and former La Sierra social work faculty member Samuel Prentice who became a close friend. Delpino also notes the guidance of his longtime girlfriend Sherene Roth.
However his late mother, Reva Delpino, was the foundation in Delpino's life and chief among his influencers. "She really pushed faith and trusting and relying upon God and the importance of prayer," Delpino said. 
"I really did not drift away from the life learnings that my mom taught to all of us," he said.