When K2 Snowboarding's global senior designer Ricky Raboteau creates new looks for upcoming lines of boards, he talks to snowboarders on the slopes and takes information from focus groups before laying out patterns, shapes and colors.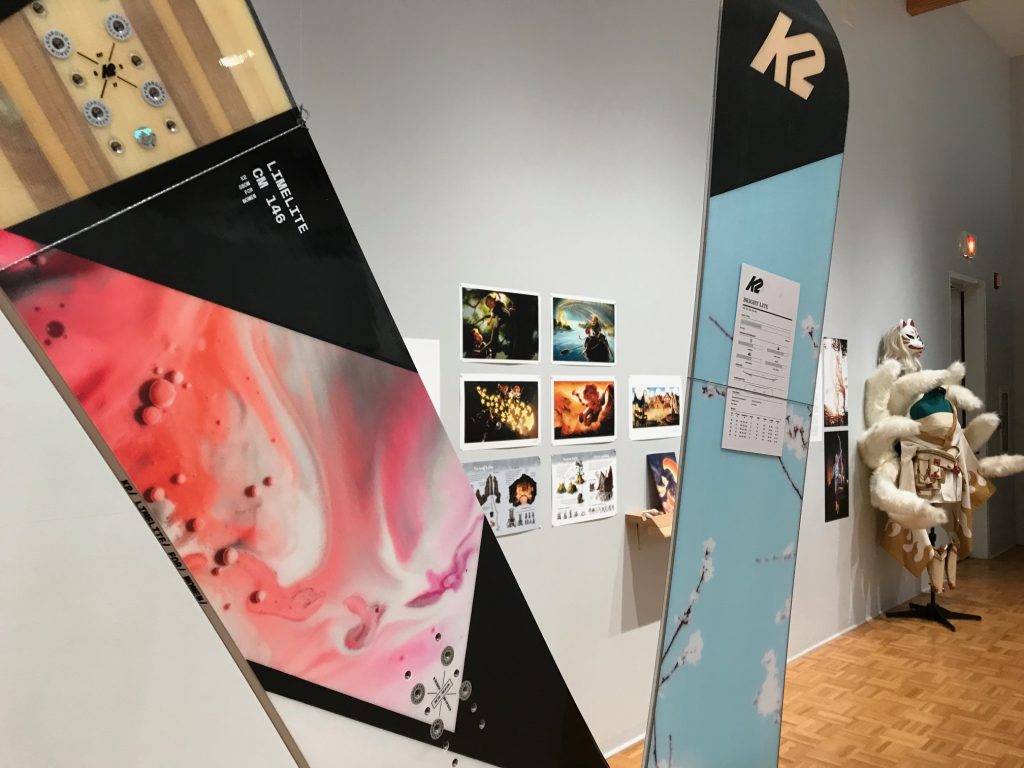 Raboteau takes note of how members of K2's target groups dress and the foods they like. For example, "If I see them wearing a print, I might put a nod to that in the design," he says. He also considers what the brand communicates to consumers and how it inspires them.
Raboteau '17 is among 14 art program alumni who participated in an exhibit at Brandstater Gallery February 19 to March 14. It was the first show of its kind at Brandstater in more than 10 years and officially opened with a reception and artists' panel discussion on February 24.
The Alumni Exhibit featured a variety of media ranging from illustrations and photography to video, graphic design, mixed media, and textiles. Exhibitors attended La Sierra at varying points over the past 41 years and have continued to engage in an ongoing creative practice.
Other artists in the show were Nic Sanchez, Rachel Cho, Amy Cronk, Daniel Aldana, Elyse Whittier Paek, Brandon Grainger, Joemm Blanche, Valdenis Iancu, Kiyomi Fukui Nannery, Lauren Prado, Jeff Francis, Nora Ayala, and Katie Nahab. Their artwork has appeared in galleries, children's books, magazines, calendars, music videos, on building signage and products such as snowboards, on websites, in marketing campaigns, digital apps, and as branded merchandise. Some have done creative work for feature films, television series and commercials, and some pursue freelance art enterprises and work as art educators.
Brandstater Gallery Director Tim Musso said he hoped the show would "inspire our current students to see the breadth of creative activities available to them when they transition from life at La Sierra. It is equally important for our department to reconnect with alumni from our program and to give these individuals the opportunity to connect and interact with our current students."
Jeff Francis '75 is a nature photographer and dentist. He submitted two large photographs– a body of icy water reflecting a colorful sky and edged by mountains, and dark woods fronted by white birch trees. His color-rich, large-format photographs of the Southwestern canyons and mesas in Utah and Arizona and in California's national parks have graced the pages of Arizona Highways and other publications, as well as nature calendars. He has also participated in the prestigious Laguna Arts Festival and has exhibited in several galleries.
"Since my early years taking photographs I have never lost my love of the simple beauty and color of God's creation," Francis said in an artist's statement. "I seek to show the beauty and perfection of nature in an artistic way."
"I have watched the department for many years," said Bernard Brandstater who attended the art opening with his brother, Murray. "It's just a joy for me to come and see the outcome. Each graduate has built upon his or her natural talents."
"We have a wonderful set of successful people," said Murray Brandstater at the opening reception. He added that it was "very gratifying" to witness the work of the gallery and of the department's overall pool of art students, many of who enter scientific careers.
During the opening reception panel discussion, the artists talked about a variety of topics including the realities of finding work in a highly competitive environment.
"I found my first design job off Craigslist," Raboteau said, adding that a professional demeanor and appearance are vital when first starting out.
In a questionnaire for the exhibit, the artists gave insights into their experiences at La Sierra University and its impact on their lives.
"Without La Sierra, I would never have been introduced to the art and design world at all," said Nic Sanchez '10. "I'm eternally grateful to the faculty of the art department for opening my eyes to the possibilities of design."
Sanchez is an art director and design lead at the Brooklyn, New York offices of global creative network Stink Studios. He works on television commercials, responsive websites, and brand campaigns that encompass a variety of platforms and includes identity designs for The New School in New York.
The artists of the Alumni Exhibit also had words of advice for current art students. "Try things you're bad at," Nahab said. "Every artist makes a thousand ugly things before their masterpiece." "Don't stop making, even if you end up in a cubicle," said Lauren Prado '14 a textile artist whose giant, needlepoint shoe illustrations reach to the top of Brandstater Gallery in the Alumni Exhibit. "It's important to continue growing and learning."