With its debut on February 25, The Roadrunner Review, an online literary journal produced by La Sierra University students, opened an avenue for college writers into the world of professional writing.
The brainchild of associate professor of English Sari Fordham, the review showcases fiction, nonfiction, and poetry submitted by young writers at colleges and universities around the world with a goal of providing a literary space for fledgling writers. The journal also provides real-world experience for La Sierra English department students who produce the review under Fordham's guidance as editor-in-chief. Plans call for it to be published three times a year.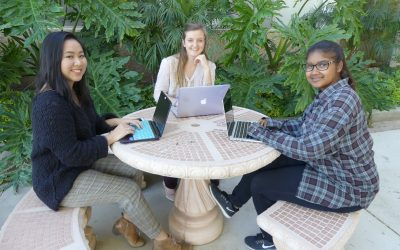 "Housing a literary journal in our department will give our students hands-on experience with both publishing and editing," says Fordham. "I'm hoping that our Roadrunner Review editors will have an edge when applying to graduate school, competitive internships, and dream jobs."
The student editorial teams will change with each issue. Calls for submissions are posted on Submittable.com, a platform that allows organizations to collect and review content including literary works, artwork, photography, and other content. Student editors also send out calls for submissions on the journal's social media accounts.
The first edition received 94 literary submissions "from almost as many universities," Fordham says, with writers of pieces selected for publication hailing from Canada, Australia, Nigeria, Bermuda, Guam, and the United States. Published submissions included those from writers at Andrews University and Southern Adventist University, as well as La Sierra.
The second issue, Summer 2019, included writers from Harvard College to the University of Adelaide and the University of Limerick. A student from the Idyllwild Arts Academy won the High School  Writing Competition and was also included in the issue.
The student editors used a voting system to determine which submissions would be published in the journal.
"We wanted to publish an array of pieces while still feeling like there was cohesion and a purpose to our journal," says Adriana Marquez, an accounting and marketing major and English minor. "We carefully read through every submission, discussing where we saw potential. Each piece that ended up in the journal made an impression on me."
Marquez is aiming for a career in the hospitality industry but has always enjoyed writing, she says, and believes skills in this area will prove valuable in her professional life.
Roadrunner Review student editor Holly Hayton, an honors student majoring in English and Spanish who graduated in June, hopes to one day work as a fiction editor in a publishing house. Participation in editing the new literary journal provided a step toward that goal. "The Roadrunner Review has been my first official experience in creative editorial work, which means that it's the most relevant work experience I've gotten during my undergraduate studies," she says. "It has also given me a lot of personal insight as a writer."
The journal also hosted a writing competition with first place winners selected in fiction, nonfiction, and poetry. The competition was judged by three professional writers: Andria Williams, Shana Youngdahl, and Kevin Fenton. Each category winner received $100 and recognition in the journal.
The Roadrunner Review logo was created by La Sierra University art student Paulina White. The cover image for the journal's first issue was provided by professional artist Matthew F. Fisher. Going forward, Fordham will seek cover art submissions, particularly from student artists, she says. The journal also includes a blog section with book reviews and insights about the student editors.
The Roadrunner Review will remain exclusively an online product and will not require a subscription fee. Issues of the journal will be released through Submittable, Duotrope.com and social media. "We feel really passionately about supporting student writers, and that means making sure student writers and all their fans get to read us for free," says Fordham.
The Roadrunner Review can be accessed at: roadrunner.lasierra.edu