By Denise Lopez, with Kristine Barker
Beep, beep, beep. My car reminds me that I haven't grabbed my keys out of the ignition as I make my way into Urgent Care of Kaiser Hospital Pasadena for another 12-hour shift. To tell you the truth, I wish I could cry out like my car, too—I am so tired and exhausted from long hours working on my feet. But I love my job and my patients, so I can't complain. I grab my keys and the beeping stops.
It is a November morning in 2020, and the air is chilly for Pasadena weather. I hug my jacket close as I make my way to the locker room where I have to change into a different pair of scrubs. The other nurses and I call them our COVID scrubs, as we are required to change into them for the day since we are working directly with patients who are usually positive for COVID-19. 
It takes a few minutes to put on my face shield, gown, gloves, and my trusted N-95 mask. Luckily today I'll be getting a new one; we have been receiving replacements for a few days now, but we are not always so lucky. There have been many days when our personal protective equipment (PPE) is scarce, and on more than one occasion I've had to wear the same N-95 for a whole week. Eeeew, I know, not ideal. But I also know that most medical professionals are dealing with the same thing. I am just grateful to have one at all.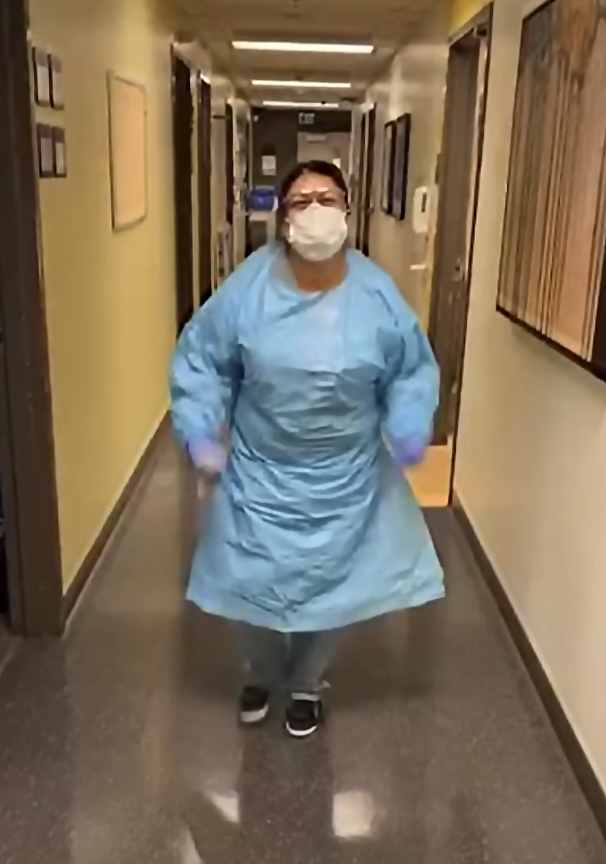 Denise on her way to the parking garage clinic
Around 8:30, I step back outside in the brisk air to work with patients who will be seen in their cars. Since I am an Urgent Care nurse, a lot of patients who come to us will test positive for the virus. So, our new policy is to see the patients outside in the parking garage until the pandemic is a little more under control. I can already see the lines of cars winding from the parking lot all the way out into the street. 
My heart skips a beat as I think about the work to be done, the very long day ahead, but luckily I am not alone. It is all-hands-on-deck! About 80 percent of our Urgent Care staff are outside, as we begin the day swabbing patients and providing the appropriate care. It's nothing like what we were doing this time last year, before anyone knew about this strain of coronavirus—instead of welcoming people into our building, parking stalls have been turned into exam rooms. Patients drive into a parking spot and sometimes sit in a chair outside their car while being examined. It is a long process to check everyone in, but we do what we need to do to ensure everyone's safety and wellness.
Throughout the day, I wheel my computer around on a cart as I go from patient to patient. Sometimes I administer the testing swab or check patients in. Sometimes I assist other nurses and doctors. Since we are in the thick of the pandemic, people are waiting two to three hours to be tested or seen here at the drive-through Urgent Care. Not everyone is friendly after waiting in the car so long, and I wish I could make the process go faster. But even though all my coworkers are working just as hard as I am, it's still a struggle. 
"I haven't even gotten a break today," I want to tell my patients. They don't know that breaks are hard to come by, and that when we do get the chance to go drink water or use the restroom we have to completely un-gown to go inside and then gown up again to resume our duties. But I don't say anything. I just keep working, trying to help as many people as possible.
Seeing some COVID positive patients having a hard time breathing is always really hard for me. Today, I assisted a patient by supplying them with oxygen and starting an IV. The other day I took someone inside to get some x-rays done. You see a lot of things when you work in healthcare, but you don't realize how miraculous breathing is until it is taken away from you. 
Just like most days, we send as many COVID positive patients to the Emergency Room as we can. Some need to be admitted for further care, and I just hope that we get them there in time to make a difference. 
By the end of the day, my feet are sore and aching. With the never-ending sea of patients, the day seemed like it would never end. But it did, and my colleagues and I survived. We don't need to tell each other that we are grateful for the fact that we're still breathing. We all know how many people are on ventilators, and how many more didn't make it through their battle with COVID. 
As I get home, the only thought on my mind is sleep. I am basically out before my head hits the pillow, only to wake up 8 hours later to start it all over again.
This day, and so many others like it, have all run together in my memory. The intensity of that winter spike lasted a few months, but started getting better toward the end of January. And when I was finally able to switch from swabbing to vaccinating, I felt incredible joy. I am a lot happier seeing the upside of the pandemic—giving good news and protection to as many people in my community as I can. 
Since those of us who can administer vaccines have been in great need in the Los Angeles area, I actually picked up some side gigs. In addition to working for the hospital, I've helped administer vaccines to the public at Dodger Stadium, in the Disneyland parking lots, and many other places. Sometimes, the group I am working with is able to administer up to 10,000 vaccine shots a day!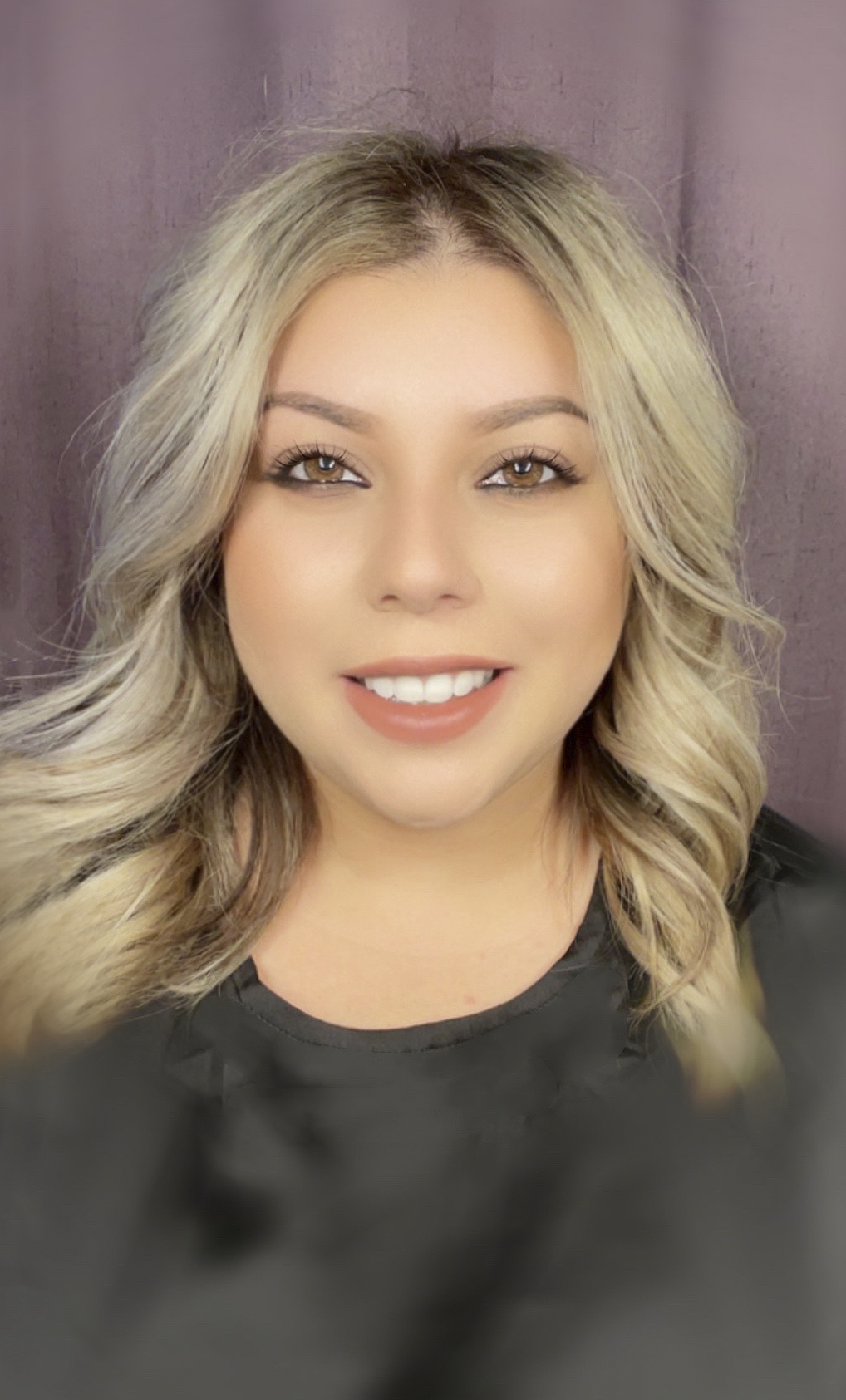 Denise graduates this June
It all feels very rewarding—especially because I did all of this while also finishing a bachelor's degree at La Sierra University. Working full-time while also going to college full-time has been a challenge over the last few years. Being in my late 20's, I am the sole provider for myself. And since I work as a Licensed Vocational Nurse (LVN), I haven't been eligible to receive government financial assistance so money has been tight. When the pandemic first hit this area during March of 2020, I was working at the Kaiser Hospital in Riverside, and my hours were cut to half time due to on-and-off work. It was a struggle to pay my regular bills, let alone college tuition. 
I didn't know what to do. Should I pay my electricity bill, or try to finish my education in the middle of a global pandemic? I was so close to graduating that I didn't want to give up, even though other responsibilities needed my attention, too. I was ready to try anything, so I sought help from the La Sierra Student Aid Fund. I wasn't sure if they would have any scholarship money for me, but thanks to some amazing donors I was able to continue my studies when work was touch-and-go. In October of 2020, while attending classes online, I was able to transfer to the Kaiser in Pasadena—the same hospital I just told you about, with our parking garage clinic. Work there picked up quickly, turned into full time, and that is where I am still working today.
This month, I am proud to be graduating with my degree in healthcare management. In the future, I would like to get a master's degree and help change the face of healthcare. And the most exciting part is, because of my degree, I was offered a job as a clinical instructor at American Career College in Los Angeles! I am excited to train other nurses while continuing my own nursing journey. Without the generosity I received last year, I wouldn't have this amazing opportunity to carry on the skills and lessons I have learned throughout my time as a nurse. I'm ready to keep changing the world, one swab, one vaccine, one new nurse at a time.  
My name is Denise Lopez, and this is my pandemic story. What is yours?
P.S. Receiving assistance for tuition changed my life. It was the stepping stone that I needed to reach my academic goals and move me one step closer to changing the face of healthcare. I am a first-generation college graduate, and finishing this school year will be the beginning of breaking my own glass ceiling. Thank you so much to all those who give to student scholarships. You, yourselves, are miracle workers.