Their interaction may have taken place across rows of digital squares on Zoom video conferencing, but La Sierra University's former students from decades past laughed, exchanged memories and updates, congratulated honorees, gained new insights, and even shared dinner.
With the cancelation last year of the 2020 alumni weekend due to the COVID-19 pandemic and campus closure just weeks prior, the university's Virtual Homecoming 2021 held April 16 and 17 was a particularly welcome opportunity for reconnection, even if confined to a digital world. 
In one unique platform called Gather.Town, attendees could take their online interactions a step further, literally: in caricatured avatars of themselves they could walk around a virtual replica of the campus complete with digital models of buildings and meet and converse with each other. They could even 'walk' into digitized campus buildings to attend some of the weekend's presentations.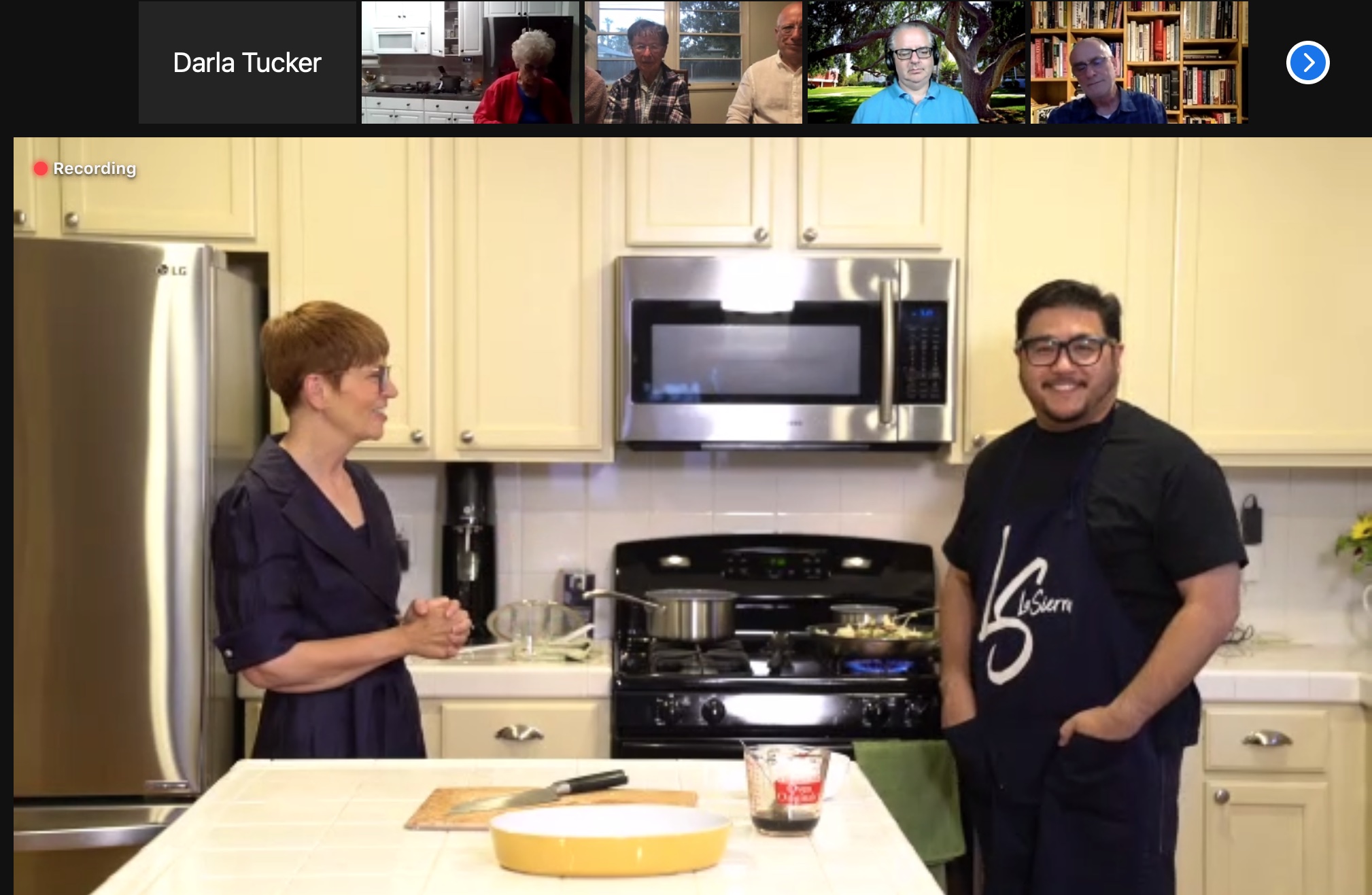 Dr. Fehr hosted the Alumni Gathering and Recognition Ceremony from her home.
265 La Sierra alumni registered for Virtual Homecoming 2021 to attend a variety of online events over two days. Activities kicked off April 16 and included a virtual fellowship dinner cook-along prior to Rising Star and Honored Alumnus recognitions, all live-streamed from the home of university President Joy Fehr. She and chef Kristofer Malit, a 2008 psychology program graduate and a gifted cook, led viewers through the preparation of a stir fry dish consisting of noodles, vegetables, tofu, and spices. The recipe was sent to registrants ahead of time and also posted online so alums could make the dish in their own kitchens while on Zoom and watching the cooking demonstration.
During breaks in the evening's fellowship dinner event, Fehr presented the names of alumni who received Rising Star and Honored Alumnus recognitions from each of La Sierra's schools as well as the Alumni of the Year award which was presented to Adventist educator Richard 'Dick' Osborn.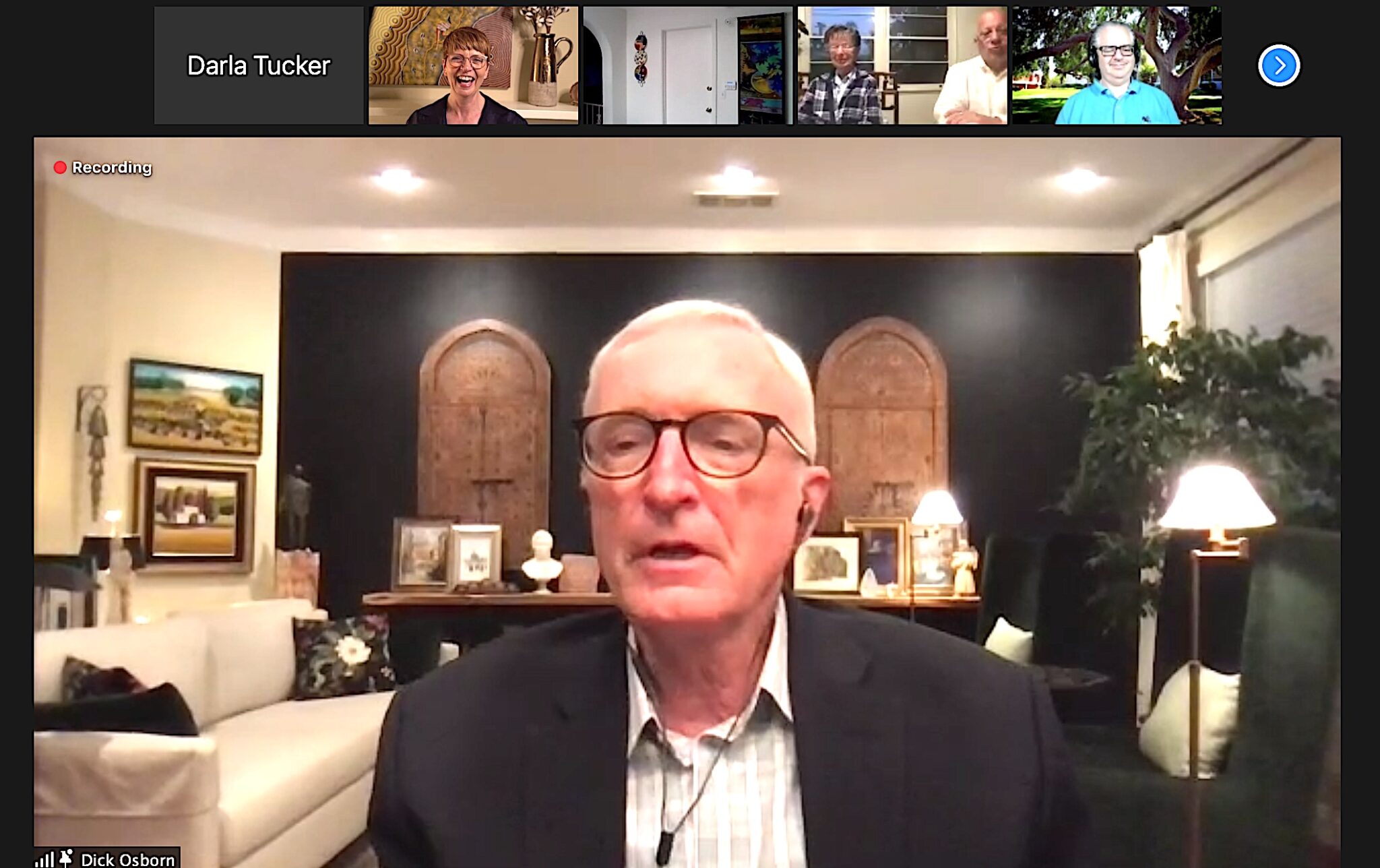 Dick Osborn received the Alumni of the Year Award
The President's Award was given to educator Norman Powell who served as a professor and chair in La Sierra's Department of School Administration and currently serves as director of the La Sierra Food Pantry program. "It's been an honor and a privilege to have this sort of association with La Sierra," Powell said during the Zoom presentation.
Those receiving 2021 Honored Alumnus recognitions were SanDee Priser, Zapara School of Business; Dr. Charles Schoepflin, College of Arts and Sciences; Rochelle Webster, H.M.S. Richards Divinity School; and Kevin and Angela Kuzma, School of Education. 
Alumni receiving 2021 Rising Star recognitions were Jonathan Clement, Zapara School of Business; Erica Garcia, College of Arts and Sciences; Matthew J. Korpman, H.M.S. Richards Divinity School; and Shakira Durham, School of Education. To view further information about the awardees, please visit lasierra.edu/alumni/homecoming/2021-alumni-awards/.
Sabbath worship the following day offered viewing options between live-streamed services by the La Sierra University Church and the Mt. Rubidoux Seventh-day Adventist Church in Riverside. Afternoon presentations and lectures were available via Zoom on a wide range of topics including astronomical research; archaeological projects in Jordan, insights on ancient coins and recognitions of key archaeology supporters; the La Sierra University Enactus team's shipping container farm and Title IV STEM program; the making of woodcut prints, Art+Design exhibits and student work by assistant art professor Tim Musso; the World Museum of Natural History's 50th anniversary; historical insights into La Sierra around the time of World War II, among others. 
That evening, La Sierra's 50th and 51st-year anniversary classes gathered on Zoom to celebrate and reminisce, while alumni from prior year classes congregated in their own Zoom group. Individuals were able to move between Zoom groups to engage in conversation. A video compilation of performances by various music groups and soloists from the university's Department of Music capped the two-day line-up.
"Wow, what a great experience for me," said Jan Green, former chemistry major and president of the Class of 1961. After La Sierra he earned a medical degree from Indiana University Medical Center and practiced urology in South Bend, Ind. and Orange County, Calif. "I certainly learned a lot about the advantages of Zoom and 'Meet and Greet' at an age when the learning curve starts to flatten out. Meeting virtually Gary Ross, Cynthia Cooley Vest, Gary and Annette Frykman and many more old time La Sierrans was special," he said.
Noted Green, "We have shown our resilience in a year of challenges and changes. I do think we are better for it. There are fewer from the class of '61 and we do miss those not with us. I personally thank all of my classmates for helping to make La Sierra so special for me."