When 9-year-old Quetzalli Dominguez opened her new backpack to find the colored pencils and other school supplies inside it was almost like Christmas. "I love it," she said, smiling behind her face mask decorated with small hearts.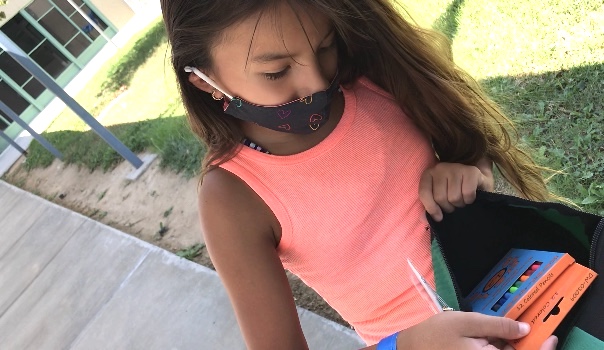 But unlike holiday toys, the backpack gift brings deeper benefits – it will help Quetzalli complete her assignments this fall, encourages her interests in school and eases expenses for her family. The youngster was among about 150 third and fourth graders at Twinhill Elementary School in Riverside, Calif. who received backpacks filled with school supplies on Aug. 28. The outreach was part of the 'Every Child. Everywhere. In School.' campaign rolled out over the past year by the Adventist Development and Relief Agency (ADRA). 
In total, 5,000 green and black school backpacks were filled and distributed during August and September through a partnership with La Sierra University. The majority were delivered to 41 public schools in the Alvord and Riverside unified school districts aiding students enrolled in free lunch programs. A portion of the backpacks were also contributed to students at several Seventh-day Adventist academies scattered around Southern California from the Los Angeles and inland regions eastward to Needles at the Arizona state line. 
Around 15 La Sierra students, masked and wearing blue surgical gloves worked at the Zapara School of Business over two weeks in late August unwrapping boxes of backpacks and filling them with notebooks, pencils, pens, rulers, glue sticks, erasers, colored pencils, scissors and pencil sharpeners. A blue and gold La Sierra University 'Change Your World' keychain was attached to the outside of each pack. 
For the La Sierra University students, the outreach was a welcomed opportunity to help others and interact with their peers. The university's foundational service and missions programs have been reconfigured due to the pandemic and the campus has been functioning primarily online since March.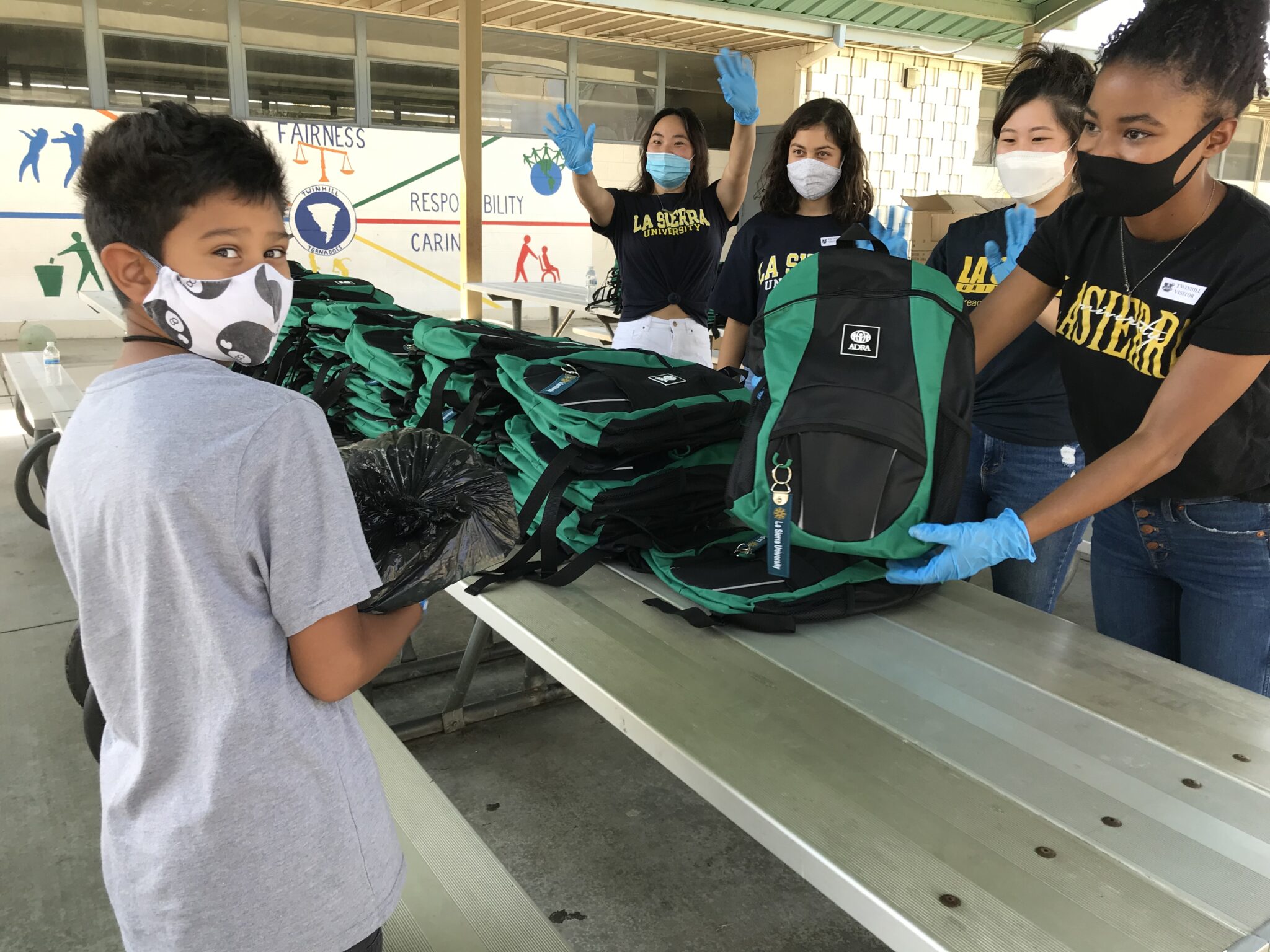 Ashley Peak, a third-year pre-dentistry major at La Sierra and former member of the student association was grateful for the opportunity to become the hands and feet of Jesus in the community once again. "This past summer I truly was just at home kind of thinking like, 'well, what am I doing here? I really feel like I'm not helping the community whatsoever.' And in that sort of way, it was kind of hard for me to connect with God and Jesus," she said. "Thankfully, I was met with this wonderful opportunity to volunteer."
She added, "I think it really means a lot for the kids to be able to receive something from a college student."
ADRA's Every Child campaign, launched in October 2019, is a global education movement led by ADRA and the Seventh-day Adventist Church that advocates for greater access to education for vulnerable children. In 2020, a campaign petition has garnered more than one million signatures in over 200 countries. More information about the Every Child campaign can be found at ADRA.org/InSchool.
The Southern California backpack donation is one of three ADRA backpack giveaway events this summer and fall. Two others involving the distribution of 5,000 backpacks each have occurred within communities in Indianapolis and in the Boyle Heights area through Adventist Health White Memorial hospital in Los Angeles. 
"Education is a powerful investment that unleashes a child's potential, builds their minds, and develops their character for life. ADRA, which serves millions of children worldwide, is supporting La Sierra University because together, we want to make sure that children can learn and excel, despite the ongoing challenges of the COVID-19 pandemic," says Michael Kruger, president of the Adventist Development and Relief Agency. "When children get an education, they have the opportunity to thrive and to impact their own communities. This is why we are delighted to support so many children and their families during this critical time with this donation of 5,000 backpacks."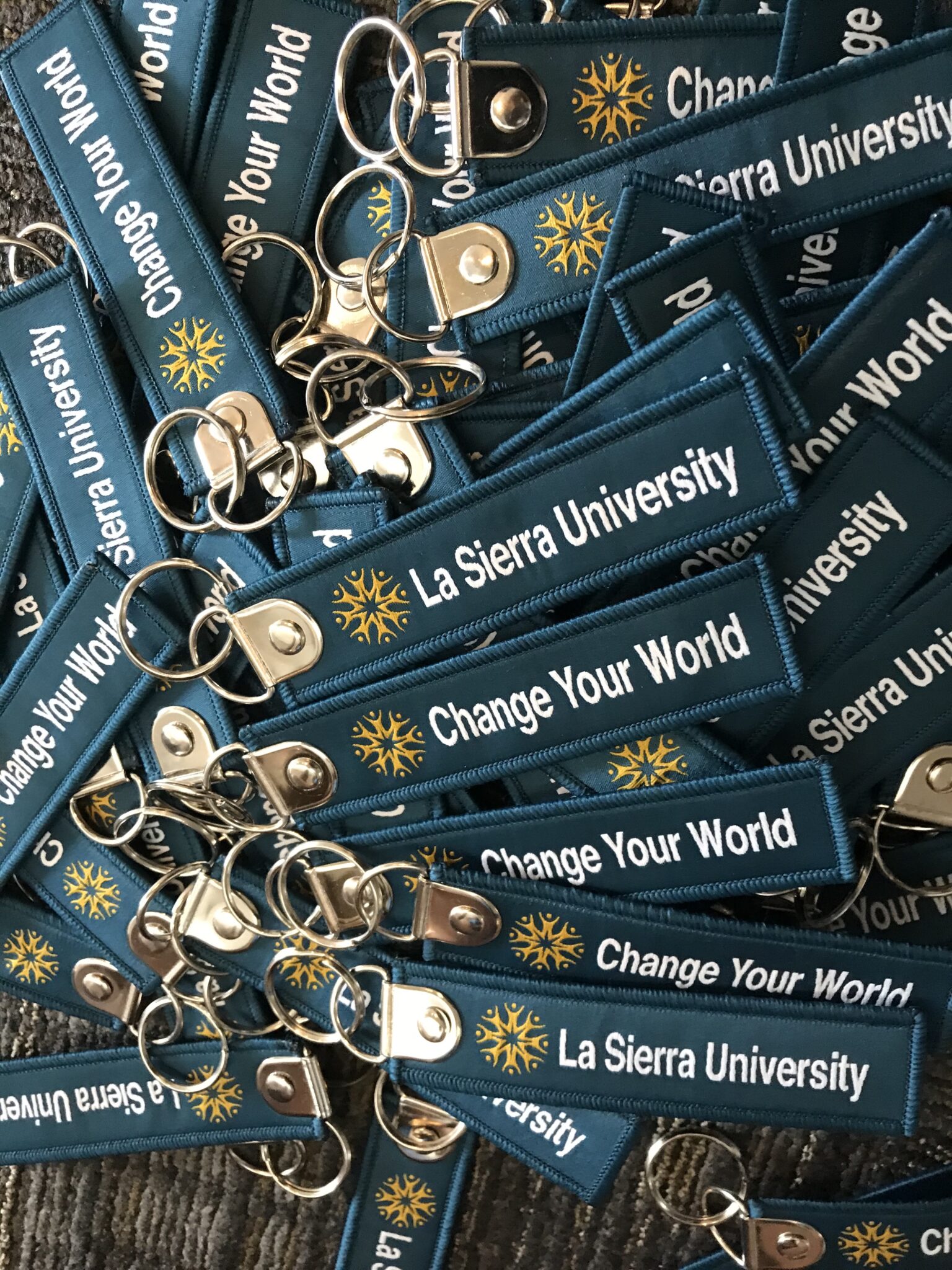 Approximately 98% of the 430 students at Twinhill Elementary participate in the district's free and reduced fee lunch program, said Principal Mary McAllister-Parsons, and about 50% are English language learners with many coming from immigrant families. "I'm super grateful for this outpouring of love because that's what I consider this," she said. "It provides [students] with the means to enhance their learning. And it shows them that their learning and their education is important … to our community."
Antonia Velasco arrived at Twinhill on Aug. 28 to pick up backpacks with her children, Monica and Dimitri who attend third and fourth grade. Due to the pandemic, the students had been learning at home online and were very excited to come to the campus. They were hopeful they would see their friends, Velasco said. "They were like, 'Oh I miss school, I missed this place so much, I wanna' go back' and I was like, 'I know babe, hopefully soon.' I have them pretty much inside all the time and so they were happy that they got to come out," she said.
Riverside city officials also participated in the backpack distribution to schools in their wards. Steve Hemenway, Ward 7 City Councilmember who is also a La Sierra alum and instructor, along with Riverside Ward 6 Councilmember Jim Perry on Aug. 20 and Aug. 28 respectively drove vehicles loaded with backpacks to 11 schools in total. 
Hemenway, who also serves as finance director for the La Sierra University Church attended a media event covering the Aug. 28 backpack distribution to students of Twinhill Elementary School.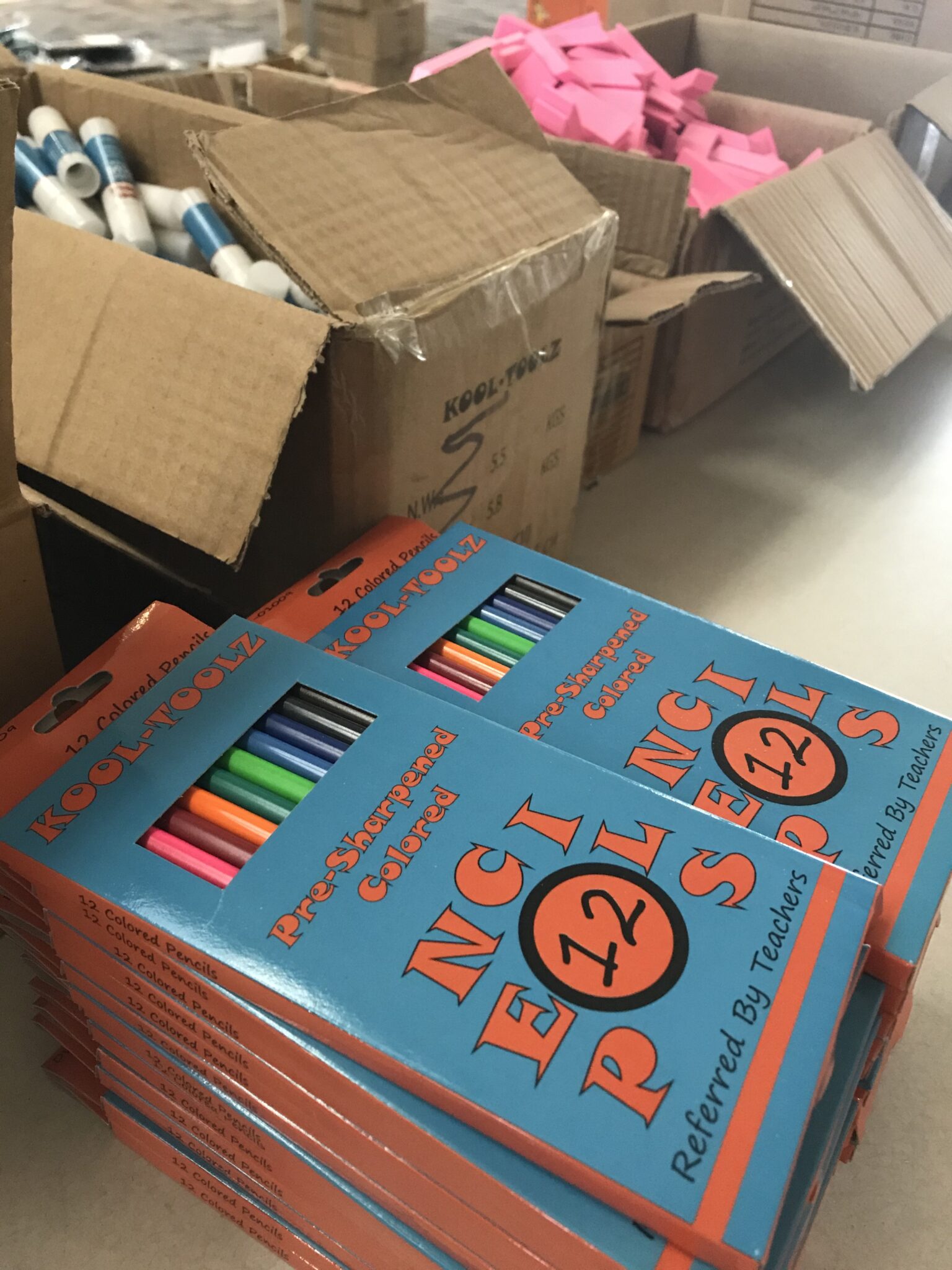 "I think with the COVID reality there's uncertainty, and we have vulnerable students here who need all they can to succeed in their educational experience," Hemenway said. "This is just one way to make sure that they have all the things they need to have a successful year. It's great to see how the community has rallied to make sure that everyone is taken care of. And [here's] a prime example of La Sierra University and the collaboration with the school district and our office within the city to make sure that the residents, the community, are attended to during a really difficult time."
Youngsters in transitional kindergarten through 6th grade at Mesa Grande Academy in Calimesa, Calif. received about 100 backpacks with supplies in September. After discussions in her fourth grade Bible class, teacher Kristin Penington said her students decided they would personally donate the packs to families and individuals in need. The other classes decided to join them. The academy students designed and wrote greeting cards which they put inside the packs. 
Nine-year-old Gracie Herrera, a Mesa Grande fourth grader with a penchant for history, is thinking about giving her backpack to an individual who is homeless, or perhaps to a family who lost a home in the recent wildfires. "I'm planning to give it to someone in need," she said. "If I see anybody, maybe I can put some food in there, and some blankets and stuff. …I'm pretty sure that it's going to feel like good maybe, that I did something for someone," she said.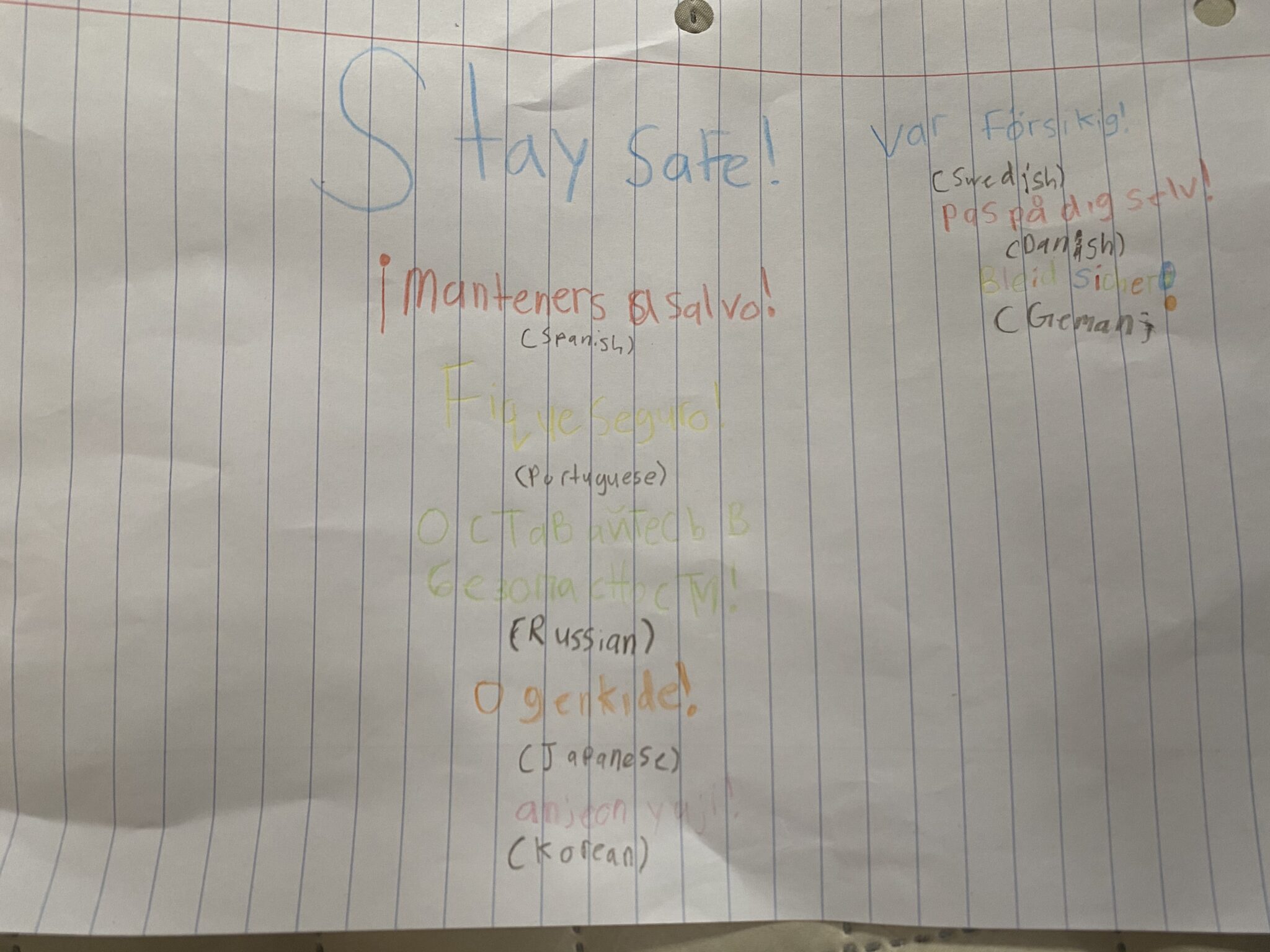 Her backpack note bears the greeting "Stay Safe" and she is writing it in multiple languages with the help of Google Translate. She had written the message in multiple colors in eight languages at last count – Spanish, Portuguese, Russian, Japanese, Korean, Swedish, Danish, and German.
Service to others is not a new concept for Gracie. Through Crosswalk Church in Redlands which she and her family attended prior to the pandemic, they assisted with activities at a food pantry serving the homeless. She and her family are more aware than many of how important it is to reach out to those in crisis as they were among those forced to flee the El Dorado Fire in September as it bore down on their neighborhood in Yucaipa, Calif. They were evacuated to a hotel nearly 40 miles away and returned home a week and a half later.
Other students at Mesa Grande were also impacted by the wildfire, noted Penington, and yet the backpack giveaway presented an occasion for finding a blessing through helping others. "It's an opportunity for the students to pay it forward to the community," she said. "They can give, …and be blessed more through that process of giving. To know that you have something to give and to extend that to others comes back around."