As her first mentors, Jaylene Chung's parents proved that service is pivotal to a meaningful existence. Following their lead, she has built her life upon their example by finding innovative ways to help those in need.
Chung, a two-time graduate of La Sierra University, was honored with the inaugural Young Alumni Eagle of Excellence Award earlier this year. Given by the university's Young Alumni Committee, it recognizes recent alumni who are making an early and exemplary impact in their communities by adding value and uplifting others. The award was given out during the university's first Young Alumni & Families Weekend held in February. The event was organized separately from the annual April Homecoming Weekend which this year was ultimately canceled due to the Covid-19 pandemic.
While at La Sierra, Chung initiated and involved herself in various forms of outreach and fundraising aimed at helping vulnerable and in-need populations. Since 2016 she has served as Development and Engagement Director for Young Storytellers, a nonprofit in Los Angeles that works with local schools and the film and television industry, including heavyweights such as Warner Brothers, DC Entertainment, and others to bring the transformational art of storytelling through script writing and performance into the lives of students.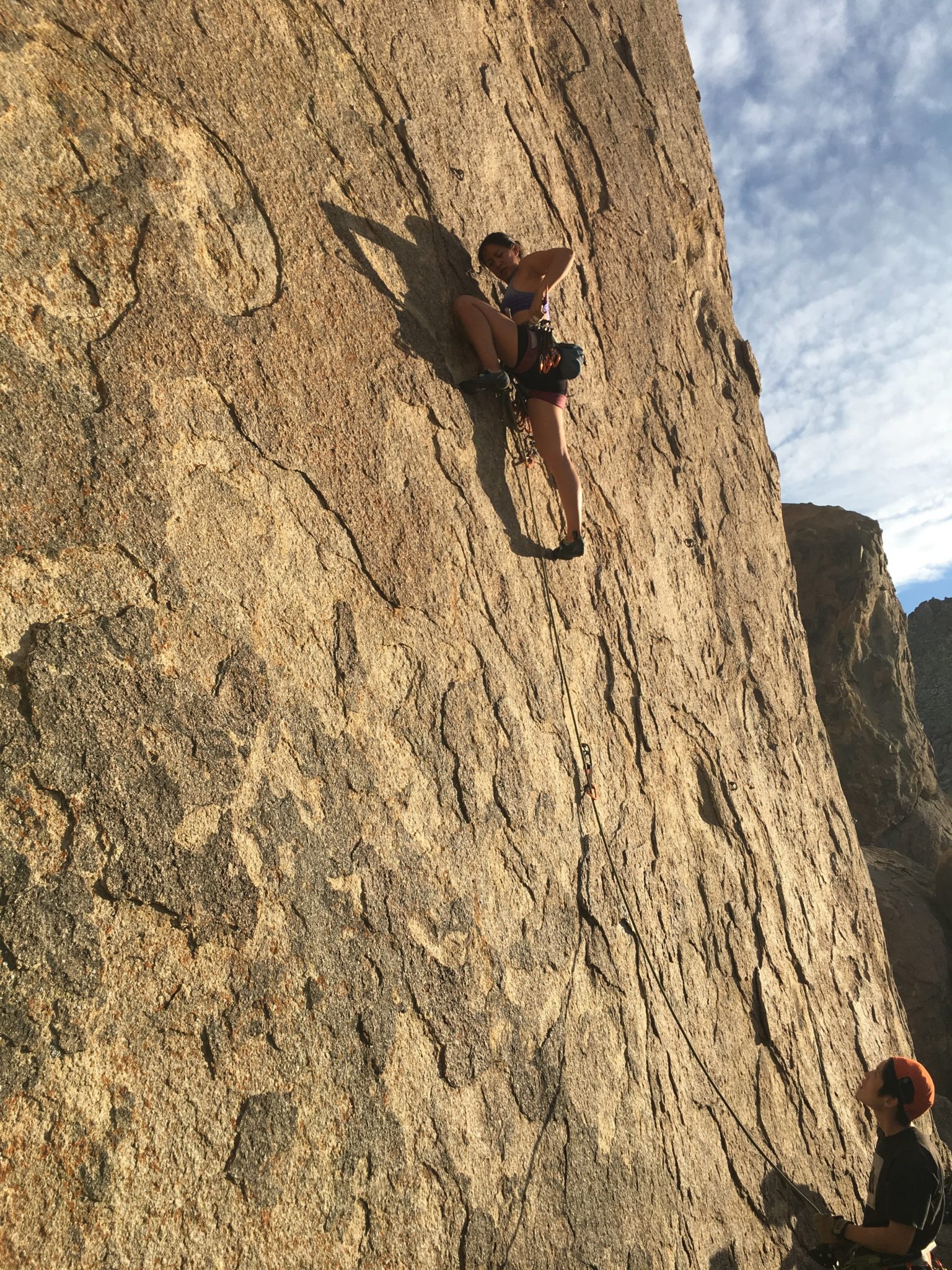 Chung was just finishing a gym workout earlier this year when she got the news of her selection for La Sierra's young alumni award through an Instagram message from Alumni Director Julie Narducci. "I initially thought that she was asking me to help out with the event, and then that she just telling me that they were possibly thinking about nominating me, not that I had actually won the award," Chung said. The recognition is particularly meaningful, she added, because "La Sierra is where I learned to begin incorporating critical thinking, inclusivity, and equity into all aspects of my life."
While working for Young Storytellers, Chung also founded a climbing group called Climb the Gap composed of 50 active volunteer members who introduce rock climbing to young people of color in Los Angeles. The group works with Stronghold Gym in East L.A. to cover costs for day passes and rental gear. They also initiated a scholarship program for serious rock climbers to pay for or discount ongoing gym costs. Since its inception in December 2018, Climb the Gap has had 285 participants. It also organizes outdoor climbing trips and hosts workshops.
Chung grew up in Milpitas, Calif. where her father, originally from Singapore, worked as a software engineer and her mother, a native of Sabah, Malaysia worked as a florist while homeschooling her daughter. Her parents frequently volunteered at church, with food banks, and helped neighbors in need. "They took me on a mission trip when I was about 15 or 16 to help with relief efforts in the wake of Hurricane Katrina, and that was a really impactful moment for me," said Chung.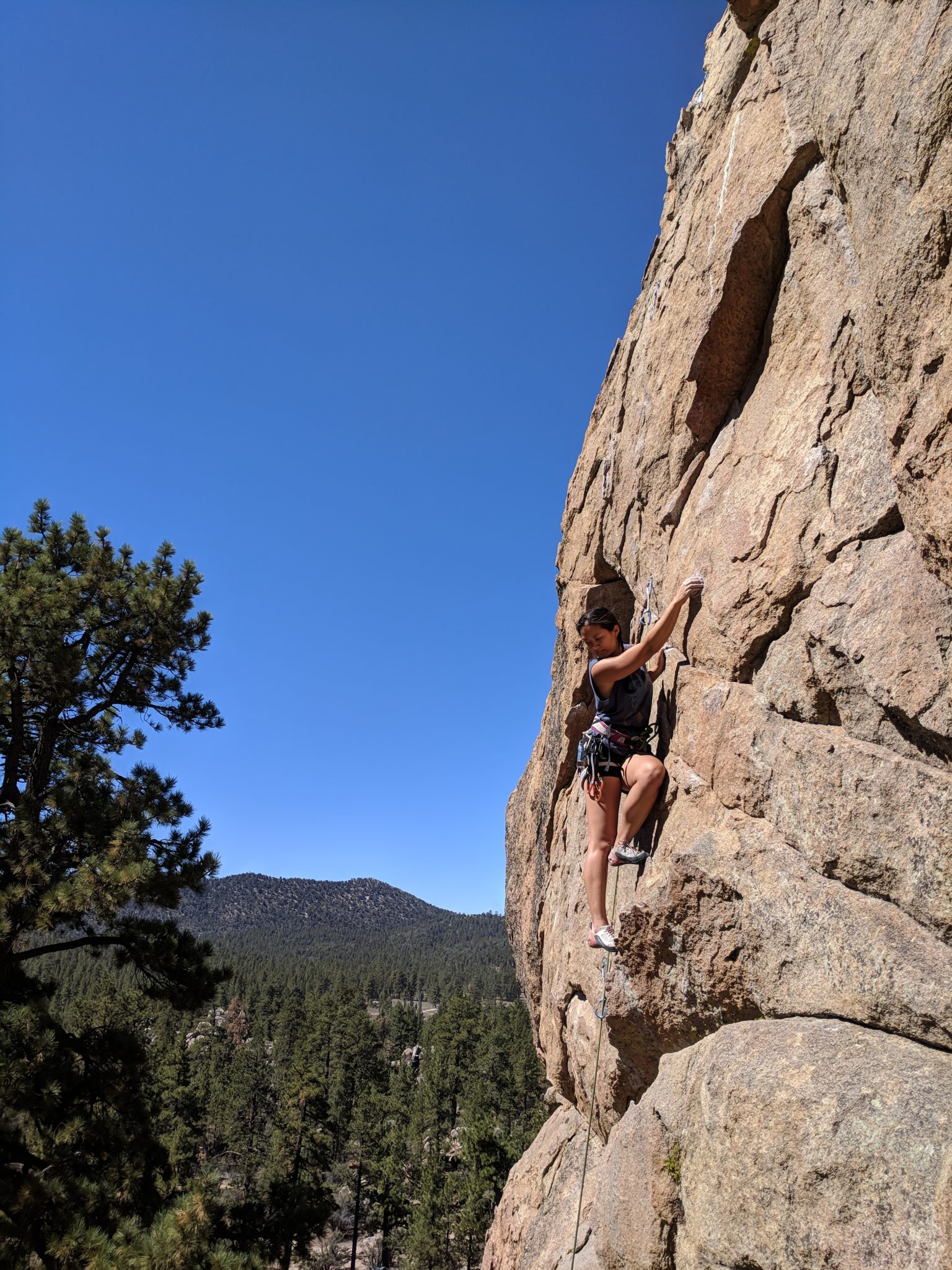 She got an earlier start than most in her college career. After completing high school at age 13, she enrolled at Pacific Union College in Angwin, California where she earned a bachelor's degree in biology. Chung moved to Southern California to enroll in La Sierra's Master of Business Administration program in nonprofit management from which she graduated in 2011, and then earned a Master of Theological Studies from the university's H.M.S. Richards Divinity School in 2013.
While at La Sierra she worked as a short term missions outreach coordinator and founded the university's REVO chapter, a Hawaii-based movement that helps individuals find ways of raising money for charitable causes. Its motto is "start a revolution, start with love." Chung led REVO in establishing an arts and fashion show fundraiser which brought in $23,000 for an orphanage in Rwanda its first year and $11,000 the next year to help fight human trafficking. In November 2010, the Inland Empire Chapter of the Association of Fundraising Professionals awarded Chung with the Youth Volunteer of the Year award. La Sierra REVO has continued to hold fundraising events since its inception.
After graduating from La Sierra, Chung worked as project development manager for Canvasback Missions Inc., a nonprofit that coordinates medical missionary teams to bring free, specialized healthcare and wellness programs to impoverished island communities.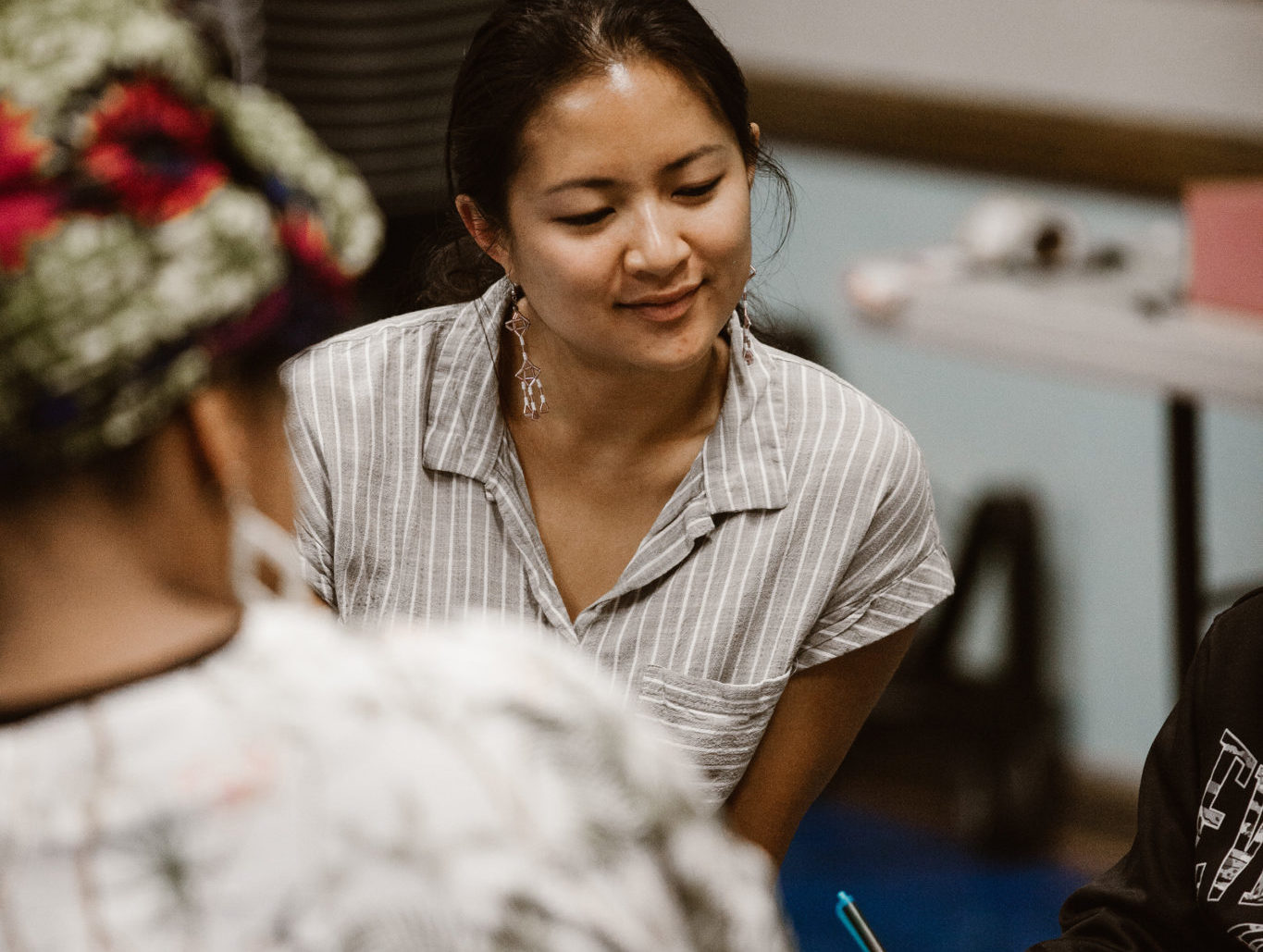 photo by Brandon Moningka '10, '15
Chung's responsibilities at Young Storytellers include overseeing fundraising efforts, events, and organizational communication and outreach to volunteers and supporters. 
The nonprofit was founded in 2003 and is overseen and advised by boards that include executives from entertainment and finance industries as well as civic leaders. Young Storytellers provides several programs for various age groups in which students who are struggling with academic and other issues can work with mentors to express themselves and gain confidence through creative writing and live performance. Programs include Script to Stage, a semester-long, common core-aligned elementary school program which links students with an adult mentor in writing scripts that are performed by actors at school assemblies; Day of Story, a condensed, one-day Script to Stage workshop for fourth graders; WB Story Lab, developed in partnership with Warner Bros. to deliver original curriculum to sixth-grade middle school students utilizing storytelling skills; Middle School Monologues, in which middle school students work collaboratively with a group mentor to create monologues about challenges they face; High School PSAs in which students write public service announcements to address an important issue facing their self-identified communities; and The Biggest Show, an annual event in which fifth grade students write scripts and professional actors from film and TV perform them at a theater.
As has been the case with most organizations, the Covid-19 pandemic altered the way Young Storytellers is able to deliver its services. The organization has been compensating by moving Script to Stage and Day of Story programs online, and by offering a virtual gathering called The Story Clubhouse, YouTube videos and other internet-based activities.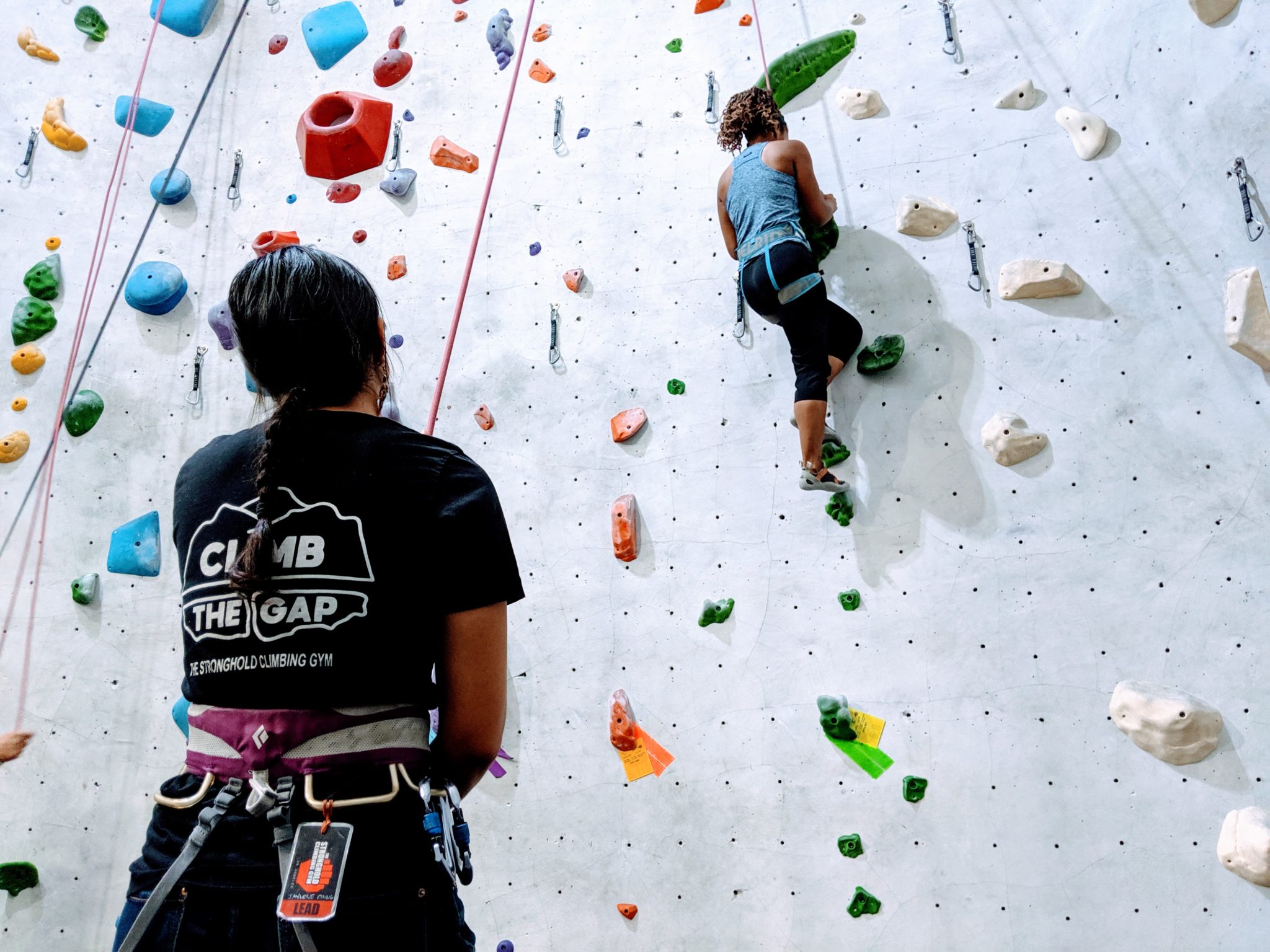 Covid-19 also suspended Chung's Climb the Gap activities. But she remains hopeful and views the current online reality as a potential avenue for new ways to benefit the community.
"While this current situation is not ideal, there are a lot of opportunities for us to expand our programming beyond our original scope," she said. "And, I look forward to climbing again with Climb the Gap and our partners."